Please fill out the form and we will get back to you shortly…
Awesome service from the pulse guys yet again! In and out with their work and hardly any down time with our power - can't recommend them highly enough
Fantastic service, communication and pricing. Definitely recommend.
If your looking for a electrician I highly recommend the team at pulse couldn't find a fault very friendly and efficient.
In the unlikely event you're not happy with our work, we'll happily fix it for FREE until you're 100% satisfied.
Have you been let down by tradesmen who OVER promise and under-deliver? Well, first of all, if that's the case, We're sorry to hear that. Frustrating, right?
Sadly, We hear countless horror stories about tradespeople who turn up late, are rude and leave a trail of mess in their wake. Or, worst still, they send their "apprentice" who barely knows what they're doing – even though you're paying top dollar.
Good news is… Those days are GONE! All thanks to Pulse Electrical!
We turn up as scheduled 99% of the time. And on the rare occasion we do run behind schedule, we call in advance to let you know. Not only that, our tradesman are polite, well groomed and have even been known to throw on a splash of cologne.
So If you're ready to experience a better standard of tradesman, Give us a call and we'll be glad to help…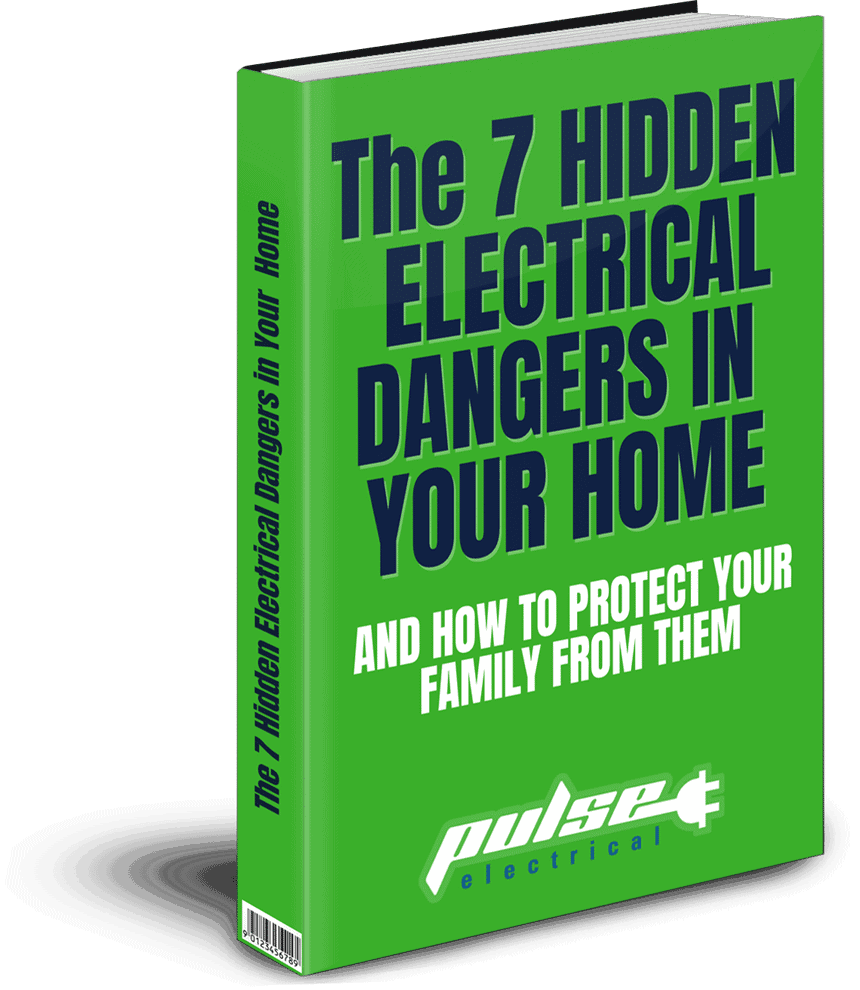 The 7 Hidden Electrical Dangers In Your Home…And How To Protect Your Family From Them!
Most frequent questions and answers
What happens if your tradies are running late?
We value your time as much as you do. While we have a proven track record for being on time. But we're only human and sometimes things do come up. In the event of our tradesman running behind schedule. You'll receive a prompt call to let you know and to discuss a revised time of arrival that suits you.
I have a tight project schedule, can you guarantee you'll finish your work on time?
Your schedule of work will be explained and outlined in advance. While we can't guarantee a finish time as things out of our control can play a role. We can guarantee we will do everything within our power to complete your project on time.
I have small children, will I hear any foul language?
Unlike other companies who think "tradies talk" is just part of the service. We promise our trades will be polite and well mannered at all times.
Will your tradespeople leave a big mess for me to clean up?
No. Never. We will leave you to place exactly how we found it. In fact, often we'll leave it even tidier.
Will I get a qualified tradesman or will you just send the apprentice?
When you pay for a tradesman, you'll get a fully qualified, experienced tradesmen. If we do send apprentices to jobs, they are 100% supervised by our tradespeople and will only work on tasks they're fully equipped to handle.
What happens if your tradesmen cause damage to my home?
In the unlikely event, we cause damage to your property. Rest assured you are 100% covered and we will fix or replace any damaged areas, leaving it perfect.
Available 24 hrs a day, 7 days a week